Maui might not be the first destination that comes to mind for a winter wedding but if you take some time to think about it, it makes perfect sense! Believe it or not, there is a slight change to the weather here on Maui during the winter. It is still warm with average temperatures in the 80s but the air is just a tiny bit cooler and mixed with the warm Hawaiian sun, we think it's the perfect place for a winter destination wedding!
Though winter in Maui isn't a traditional winter wedding destination, we can easily add in some personalized seasonal details to your wedding decor to create just the right winter in Hawaii vibe. We are excited to share these gorgeous weddings planned by Makena Weddings at the Kukahiko Estate here in Maui that give off a touch of winter with the magical backdrop that is Maui! Take a look and let us know what you think, we'd love to hear from you!
Winter Whites
Nothing says winter like a cool touch of white added into your wedding decor. The wedding featured below included gorgeous La Tavola winter white tablecloths with a sweet touch of lace texture. Paired with romantic white and blush blooms, this is the perfect touch of winter but with a view that is undeniably Hawaii. Can you imagine sitting down to this table for your winter wedding on Maui? This wedding look is an absolute dream! Ceremony decor included white wedding flowers adorned onto crossback chairs and the bride carried a sweet bouquet of winter whites with a beautiful touch of blush.
PC: Rebecca Masters Photography | Floral Decor: Mandy Grace Designs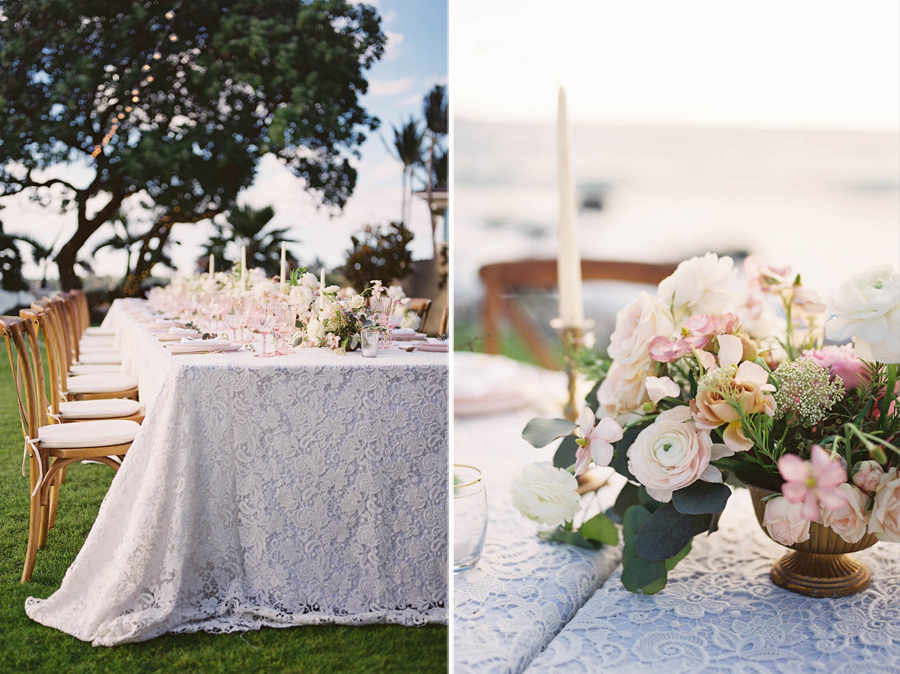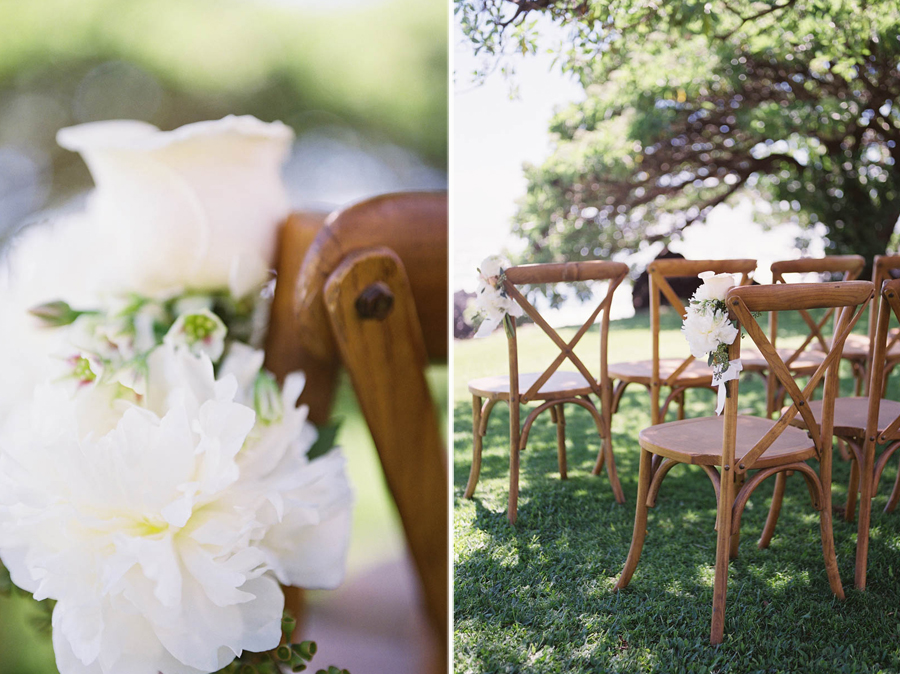 Festive Wedding Flowers
Wedding flowers in a festive shade of crimson are sure to evoke that feeling of the holidays during winter. Though this sweet couple chose to be married on a tropical island, they still wanted to incorporate the colors of the season. Dellables Floral Design did a fantastic job of incorporating deep red hues to create the perfect look that the bride absolutely loved!
PC: Dmitri and Sandra Photography | Floral Decor: Dellables Floral Design
Romantic Lighting
After the sun goes down, light up the night sky with gorgeous, romantic twinkle lights to set that romantic winter mood. These lights provided such an incredible touch, almost like being surrounded by glistening snowflakes.
PC: Karma Hill Photography | Lighting: Rio Event Design
Embrace a Muted Color Palette
A muted color palette is a beautiful way to bring in the feeling of winter without going with traditional bold tones usually associated with winter. We love the look of these muted peaches blended with winter greens to create a soft look that provides a sweetly romantic vibe to this winter wedding in Maui.
PC: Maui Maka Photography | Flowers: Floral Designs Maui 
We hope these lovely looks help to inspire you for your own winter wedding here on Maui! Please feel free to contact us at Makena Weddings with any questions about the decor or the location featured in this post, we would love to hear from you!